Seven new rescue helicopter bases to be built in UK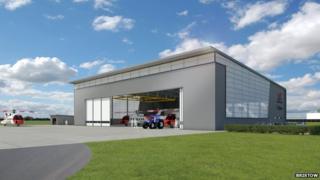 Balfour Beatty has been awarded a £40m contract to lead the construction of search and rescue bases for Bristow Helicopters.
New facilities will be built at commercial airports at Caernarfon, Humberside, Inverness, Manston, Newquay, Prestwick and St Athan.
Buildings in Stornoway will be revamped.
Crews and helicopters to be based at Lee-on-Solent and Sumburgh will use existing facilities.
Bristow said Balfour Beatty, an infrastructure services company, would seek to use local firms to do the construction work.
Earlier this year, the Bristow Group won a 10-year contract from the Department for Transport to run the UK's helicopter search and rescue operations from 2015, taking over from the RAF and Royal Navy.
The new helicopter bases will be fitted with environmental technologies such as PV solar panels and rainwater harvesting systems.
'Ideally suited'
Bristow managing director Mike Imlach, said: "Our experienced crews have fed into the design process and worked closely with the architects to ensure that the new bases are ideally suited to safe and efficient SAR operations.
"The identical interior layouts across the country will make it easy for our crew members to work from alternative bases should they need to.
"Each site will provide modern, high quality accommodation for the aircraft and crews while demonstrating how buildings like this can be made highly sustainable and environmentally friendly."
Hector MacAulay, from Balfour Beatty, said the contract would be managed through the firm's Edinburgh office.
He added: "We will use our extensive experience of airport construction work to deliver these projects which are vital to the ongoing success of this emergency service throughout the UK.
"We look forward to working with our local suppliers to provide facilities that fulfil our customer's expectations."