First capercaillie chicks in years in Grantown woods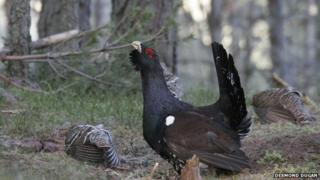 Rare capercaillie have bred successfully for the first time in three years in woodland near Grantown-on-Spey.
Local residents have been thanked for heeding advice on when and where to walk in Anagach Woods to avoid disturbing the birds.
The Cairngorms are the traditional stronghold for Scotland's capercaillie population.
Numbers of the birds elsewhere in Scotland have declined.
Five chicks raised in a nest at Anagach have fledged.
Tim Poole, who leads a capercaillie project involving the RSPB, Scottish Natural Heritage and Forestry Commission Scotland, said it was good news for the species.
'Really encouraging'
He said: "This is the first positive indication that the efforts of local people to protect capercaillie are paying off.
"We know from our research that disturbance from humans and, especially dogs, has a very negative effect on the birds, which avoid suitable habitats near to tracks throughout the year.
"It is really encouraging to learn that local residents and visitors have been following the guidance and keeping dogs on leads during the sensitive breeding season."
Piers Voysey, of Anagach Woods Trust, said good summer weather had helped a capercaillie hen to raise its five chicks.
"Feedback suggests that people in Grantown support our work to improve recreational opportunities and also manage the woods for conservation," he said.
"The woods are big enough for both, but we rely on everybody to help us keep some of the woodland quiet and undisturbed for capercaillie and this will ensure we have a truly wildwood for future generations."