Raasay residents say woodland's price tag too high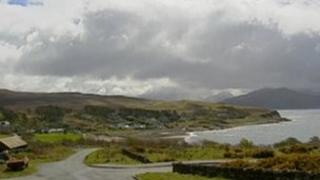 Raasay residents who want to buy woodland on the island have said the asking price is too high.
The 300 ha (740 acres) of Forestry Commission land is valued at £400,000.
Islanders said the price was right in the current market, but not a fair sum to ask of a community group. They want limits on European funding relaxed.
Highlands and Islands Enterprise (HIE) said the restrictions reflected timbers' status as a commodity that could be traded between EU states.
A spokesman added that the agency was working closely with the Scottish government to legitimately maximise the amount of support that could be offered to communities wanting to buy forestry land.
Raasay's development officer, Lloyd Gudgeon, said the community hoped that its bid for funding could be considered using different criteria.
He said: "The most we can expect from public funding support is just 20% of the total price, which is not very much when you have to raise £400,000.
"If we buy it, and we are able to use it to create jobs and affordable housing, this will lower costs for other government departments.
"It will save money on income support for instance."