Sutherland's Smoo Cave to be closed for up to two weeks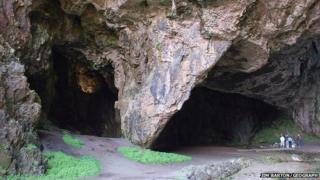 A cave that attracts more than 40,000 people a year is to be closed temporarily.
Parts of Smoo Cave near Durness in Sutherland requires rock stability work.
Highland Council, which looks after the site, said it could be shut to the public for up to two weeks from 30 September.
The local authority said the cave and paths leading down to it would be closed during the work.
About 43,000 people a year visit the area.
George Farlow, vice chairman of the council's planning, environment and development committee, said: "The works proposed are essential for the site to be maintained in a safe condition so we can continue public access to the cave so I am glad to see a date for the job has been set.
"The provision of quality countryside recreation also supports the council's commitment to strong, healthy communities."
Supernatural stories
Smoo is said to be a Norse word "Sumvya" meaning creek or cleft.
Smoo Cave, the largest opening of a limestone cave in Britain, was in use 6,000 years ago by the earliest settlers in the north.
It has been suggested that it was used by smugglers and has links to supernatural stories.
Feared 16th Century highwayman McMurdo is said to have murdered his victims by throwing them down a blowhole in the cave.