1930s Inverness-Kirkwall flight footage re-mastered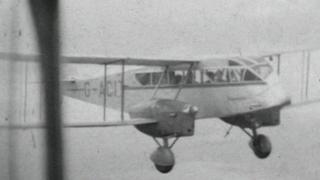 Newly restructured footage from the 1930s of the first flight from Inverness to Kirkwall is to be shown this weekend.
The screening at Inverness's Eden Court will help to mark the 80th anniversary of the route, the longest running continuous air service in Europe.
The original film mixed up scenes from the 1933 flight and the first Royal Mail service on the route in 1934.
The footage has been scanned and the scenes put in chronological order.
Sunday's screening also marks the 50th anniversary of the death of Capt Ted Fresson, the founder of Highland Airways which flew the route.
Dragon biplane
Scottish Screen Archive and Another Orkney Production re-mastered the footage.
The images are now clearer as well as showing in the correct order.
Capt Fresson established the first domestic air services in Britain, connecting the remote Orkney islands with the mainland in 1933.
The RAF flier started out with a Gypsy Moth biplane and later went on to use a twin-engine Dragon biplane airliner.
The newly re-mastered footage is part of a programme of Scottish aviation films. The others include Ireland by Air featuring Winnie Drinkwater, the first Scottish female commercial pilot.
Others are The Inauguration of Inverness Municipal Aerodrome and Birth of an Airport.