Flowers on Harris croft aids rare bumblebee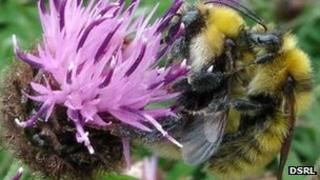 One of Scotland's rarest insects, the great yellow bumblebee, is being given a helping hand on Harris in the Western Isles.
David Jones, who manages two crofts at Northton, has been working with RSPB Scotland to enhance the habitat on his land for wildlife.
The habitat has been improved by planting borage, a blue edible flower.
The plant attracts bees and also produces seeds that provide food for birds such as corncrake and twite.
The great yellow was once widespread throughout the UK. Modern farming methods and loss of wildflower meadows led to a decline in numbers.
It survives on coastal meadows called machair in the Western Isles, and also in parts of the Northern Isles and Caithness.
RSPB conservation officer Robin Reid said: "On warm summer days the borage was buzzing with activity, attracting a host of other bee and insect species.
"It was a pleasant surprise to see how attractive the borage has been to great yellow bumblebees."