John Boa regains world porridge making title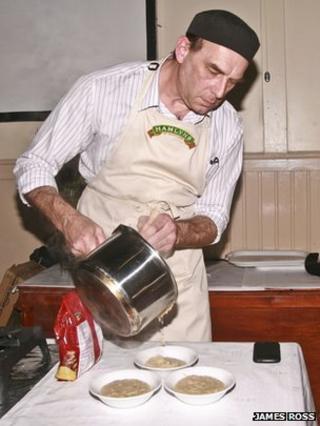 An Inverness-shire man has been named the world's best porridge maker for the second time in three years.
John Boa took the prize at the 20th Annual Golden Spurtle World Porridge Making Championships in Carrbridge, Inverness-shire.
The trophy goes to the maker of the best traditional porridge using only oatmeal, salt and water.
Mr Boa told BBC Scotland his win was "a little overwhelming".
He said this was only the third time he had entered the competition. He also won in 2011.
"I'm very proud and privileged. And it does make it a little bit special that it's a landmark year for the competition," he added.
Mr Boa, who formerly lived in Edinburgh but now lives on Skye, said the trick to producing a world-class porridge was to "keep stirring", using a spurtle - a rod-shaped tool, traditionally used to stir porridge.
He also said adding the salt was "always a key moment".
"You have to make sure you don't oversalt or undersalt," he said. "It has to be just right."
This year the speciality award was won by London-based Nick Barnard for his recipe for fruity date porridge, which used dried apricots, dates, apples and cinnamon.
Past recipes in the speciality section have included the use of curry powder, sausages and seafood.