Highland councillors approve Kishorn plan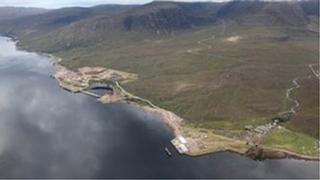 Plans to redevelop a yard built in the 1970s to serve the North Sea oil and gas industry have been approved by Highland councillors.
Platforms for two oil fields and also sections of the Skye Bridge were constructed at Kishorn in Wester Ross.
Kishorn Port Ltd proposes to make it a manufacturing base for the offshore renewables sector.
The company said the redevelopment of the yard could lead to the creation of up to 2,500 jobs.
Highland Council's north planning applications committee considered plans to extend the yard and increase operations at its quarry.
Planning officers at the local authority had recommended granting permission.
The council received objections to the proposal.
They raised concerns about noise and dust pollution and that an increase in industrial work at the site will threaten the environment and tourist trade.
Among the new work proposed for the yard is the construction of concrete bases for offshore wind turbines.
It has also been suggested blades and towers for turbines could be manufactured and assembled at Kishorn.
The yard served the oil and gas industry until the late 1980s.
At the height of its operation there were more than 3,000 people working there.
Travel to the remote area of Wester Ross meant the workforce and also materials were brought in by sea or air.
For a time two former cruise liners, the Rangatira and Odysseus, were moored in Loch Kishorn to provide accommodation for workers.
The large concrete Ninian Field Central Platform was cast within the yard's dry dock and later floated into the loch.
Once completed, the platform weighed 600,000 tonnes and was towed by seven tugs to the Ninian oilfield in the North Sea. At the time in 1978 it was the world's largest man-made moveable object.
Kishorn went on to be used for the assembly of a metal platform for the Maureen oilfield and made the foundations for the Skye Bridge.