Sunart's 'rich habitats' to be protected from renewables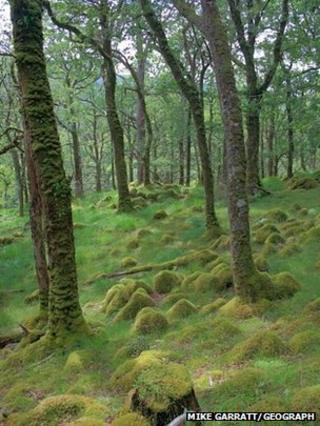 Some of Britain's "richest areas" of rare mosses and liverworts are to be protected from hydro-electric schemes.
Sunart Oakwoods' narrow wooded ravines and the warm climate of the west Highlands provide ideal conditions for the oceanic bryophytes.
Some of this plant life is found no where else in Europe.
Scottish Natural Heritage has created an online tool to help developers avoid prime bryophytes habitat.
Burns in the area could be suitable for hydro-electric production.
Parts of the woodland has European-recognised protection.
However, a survey of the area has found rich growths of rare mosses and liverworts at locations beyond the boundaries of the Special Area of Conservation.
Renewable power companies will be discouraged from choosing such areas for hydro projects.
Sunart Oakwoods are the remnants of a type of ancient habitat that once extended along the length of Europe's Atlantic coastline as far as Portugal.
People have used the forests along Loch Sunart since the Bronze Age. In the 18th and 19th Centuries, trees were used for making charcoal.
But, large parts of the woods and sensitive habitats within them have survived because local communities managed the trees sustainably.
SNH commissioned a survey of the area to aid work in creating an online map to help guide renewable energy firms.
Between August 2012 and February this year, 104 burns were assessed.
A total of 30 were deemed to be internationally or nationally important in terms of the plant life found, SNH said.
The agency said that meant 71% of the burns studied could potentially be used for electricity generation.
Dr David Genney, SNH's bryophyte specialist, said: "Scotland has around 920 species of bryophytes, many of which are globally rare.
"That makes it especially important for us to look after as many of them as possible to preserve part of our national biodiversity for future generations."
He added: "Scotland requires clean, green energy, and hydro schemes can provide this.
"Our planning tool on our website allows energy operators to avoid development in places that may cause unintended damage to internationally important plant communities."
Researchers surveying the sites also discovered a liverwort species called Holt's Scalewort, which had not previously been found in the UK.
Dr Lorraine Servant, survey project manager, said: "This work has highlighted the richness and diversity of mosses and liverworts in the Sunart ravines.
"It has provided valuable information needed to inform our advice on micro hydro schemes proposals, and will also help guide management measures to conserve these species."
The survey report said some parts of Sunart Oakwoods represented the "creme-de-la-creme of bryologically rich sites" in the UK.
It added that the area was one of the most important sites for biodiversity in the UK.