Census shows Gaelic declining in its heartlands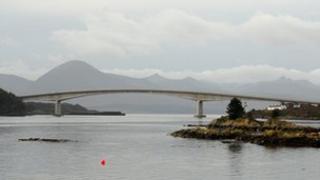 Use of Gaelic in the language's traditional heartlands has continued to decline, according to the latest analysis of the 2011 Census.
The Western Isles was the only place left with parishes where most people said Gaelic was their first language.
On Skye, another traditional stronghold, just one parish had a majority of Gaelic speakers.
Levels of speakers on Skye overall have fallen from 74% in 1991 to 46% in 2011, according to the Census figures.
Barvas on Lewis has Scotland's largest Gaelic speaking community at 64%.
Reasons for the decline in the heartlands include Gaelic speakers moving away, and people moving into these areas who do not have the language.
A decline in the overall number of Gaelic speakers in Scotland has slowed, however, according to the 2011 Census.
The growth in Gaelic medium education has been flagged up by the Scottish government as a key reason for arresting the decline nationally.
The latest analysis of the 2011 Census suggests that in Barvas, 2,037 people, or 64% of the community's population, were Gaelic speakers.
In 1991 the figure was 3,024 (87%) and in 2001 it was 2,281 (75%).
On Barra the percentages have fallen from 76% in 1991 to 62%, on South Uist and Benbecula 65% to 60.5% and North Uist 76% to 61.5%.
For Stornoway and the surrounding area the 2011 Census recorded 5,492 speakers (43%), while in 1991 there were 7,196 (57.5%).