Supply teacher shortage impacts on curriculum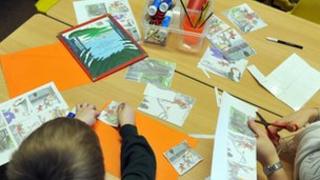 Teaching the full curriculum has become a problem in some Highland schools because of a shortage in supply teachers, it has emerged.
Alasdair Christie, chairman of Highland Council's adult and children services committee, said there was a lack of staff to cover some subjects.
The local authority has placed half page adverts in newspapers in a bid to recruit supply teachers.
Mr Christie told BBC Radio Scotland dozens more staff were required.
The number of vacancies vary during the course of the year, but winter was a time of high demand because the impact of colds and flu, he said.
The shortage affects both English and Gaelic medium education.
Mr Christie said: "It is a huge problem in the Highlands. We have got a shortage of teachers from Inverness right up to the far north and the west coast."
Several factors were behind the problem, he said, adding: "One is people who in the past wanted to do supply teaching have decided they no longer want to do it.
"Secondly, there is a national arrangement that has made it less attractive financially."
He said the local authority was "at the moment struggling" to teach the curriculum fully in some schools.
Remote and isolated schools have been the hardest hit, Mr Christie added.
In September, BBC Scotland reported that there were fewer supply teachers across Scotland to fill gaps in the classroom rota caused by sickness, training courses and other absences.
Several councils said there has been a drop in the number of supply teachers registered locally.
Scotland's biggest teaching union, the EIS, claimed the situation was at crisis point.
It argued the main reason was a cut to the amount some supply teachers were paid.
Another reason might have been that more young teachers were getting full time jobs so were not available for supply work.