Ewe what? 10 things you may not know about sheep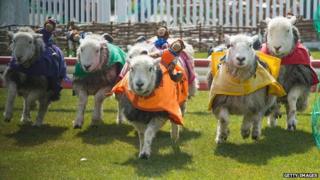 Why every year does the Scottish government warn pregnant women to avoid lambing season and nine other things you may not know about the livestock?
1. Scotland has more sheep than people. In June 2013 the sheep population was 6.57 million on about 14,800 farms, according to the Scottish government.
Ewes used for breeding in the previous season accounted for 40% of the total, with rams to be used for breeding just 1%. Lambs made up the largest proportion with 47%, other sheep over one year old accounted for 12%.
Scotland has 5.3 million people according to the latest Census figures.
2. Pregnant women should avoid lambing season. The health warning is issued around this time each year by the Scottish government.
Close contact with sheep during lambing may risk the women's own health, and that of their unborn child, because of infections the animals can carry.
The latest advice has just been released.
Scotland's Chief Medical Officer Sir Harry Burns said the number of pregnancies affected by contact with an infected animal was extremely small.
However, he added: "It is important that pregnant women are aware of the potential risks and take appropriate precautions.
"These risks are not only associated with sheep, nor confined only to the spring when the majority of lambs are born.
"Cattle and goats that have recently given birth can also carry similar infections."
He added: "Pregnant women should seek immediate medical advice if they experience fever or influenza-like symptoms, or if they are concerned that they could have acquired infection from a farm environment."
3. Women have flocked to sheep shearing. Female farm workers are key to the yearly, physically-demanding task of shearing sheep.
Shortages of trained shearers in Scotland have been a concern in recent years.
The workforce is ageing, with fewer young people entering what is considered one of the most labour-intensive jobs in farming.
In 2008, the Scottish Shearing Association put together initiatives in an attempt to lure new blood to the trade.
Three years later, women made up almost half of the students on a sheep-shearing course held to encourage more young people to become qualified shearers.
The basic training - one of four levels new shearers can progress through - was held in Strathnairn, near Inverness.
Last year, a team of 10 female farm workers took part in a charity shearing marathon held in Newton Stewart.
4. Top of the tups. Scotland is home to what the Border Union Agricultural Society calls the the biggest one-day ram sale in Europe and probably the world.
In 2012, more than 5,000 rams, also known as tups, were offered for sale at the Kelso Ram Sales.
The event can trace its history back to 1836 and has been held annually since then.
Lairg in Sutherland hosts what is believed to be Europe's biggest one-day sheep and lamb sale.
5. Buying a ram can cost thousands. In 2009, a tup lamb was sold for £231,000.
Deveronvale Perfection, bred in Banffshire, was bought by a fellow local sheep farmer at a sale in Lanark.
It was sold for breeding.
At the time, the UK's previous most expensive sheep, Tophill Joe, who was bought for £128,000. Before he died, Tophill Joe fathered lambs worth more than £1m.
6. Sheep are kept as pets. Lambs that have been orphaned or rejected by their mothers are raised by another ewe, or by farmers and their families.
These young animals are known as pet, or sickie, lambs.
One woman on the Western Isles took 16 young lambs into her care in 2012 after they were rejected by their mothers at birth.
Anna MacDonald, of Balranald, North Uist, took about an hour to feed the lambs formula milk from a bottle.
At one point she was looking after 18, however, two were matched up with a ewe.
Meanwhile, former pet lamb Dave continues to be cared for in adulthood by Amanda and Hugh MacRae at their croft in Sutherland. Dave is said to behave like a pet dog and is fond of scones.
7. They can live for years. Scotland had a potential claim to having the world's oldest sheep.
An ear tag on the blackface ewe, nicknamed Methuselina, showed that it was 25 years and 11 months old in February 2012.
Her owner John Maciver, of North Tolsta, Lewis, put her longevity down to her still having most of her teeth, allowing her to graze easily.
That same year the recognised holder of the world's oldest sheep title died at the age of 23.
Called Lucky, she died in a heatwave in Australia.
Methuselina also met an unfortunate end in 2012.
Mr Maciver told BBC Alba at the time: "The sad news is Methuselina is no more.
"She passed away and I wouldn't say peacefully. I found her at the bottom of a rock.
"She had gone over a cliff and met her demise that way at the grand old age of 25 years and 11 months."
8. Racing sheep is popular. Moffat in Dumfriesshire hosts a town-centre racing competition.
The animals race with a dummy jockey on its back made of wool and negotiate a series of hurdles.
In England, races are held at Masham Sheep Fair in North Yorkshire while the Lamb National is held at Ascot.
9. They have been blamed for the Clearances. A year ago, an artist delivered a 45-minute lecture on the Highland Clearances of the 18th and 19th centuries to a flock of sheep to stimulate fresh debate on the historic events.
Anthony Schrag's lecture in a field on a farm in Sutherland was filmed so it could be viewed by people living in and near the Strath of Kildonan.
The strath was cleared of families 200 years ago to make way for large-scale sheep production.
Schrag said his lecture looked at the clearances from the point of view of sheep.
He joked that one of the animals did appear to take an interest in what he had to say.
10. Sheep live where no people do. Soay sheep roam wild on the islands of St Kilda, a remote archipelago off the west coast of Scotland.
Uninhabited since the 1930s, scientists are among the few people to live on St Kilda today but only on a temporary basis.
Soay sheep are smaller than domestic breeds.