Inverness hub could create jobs, says Kenny MacAskill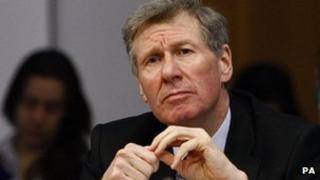 A new hub that would be available for co-ordinating major incidents and events could create new jobs, Justice Secretary Kenny MacAskill has said.
The National Control Centre for Scotland in Inverness would have 47 staff.
Mr MacAskill said there was potential for that workforce to be increased later by 10 to 20%.
The Scottish Police Authority voted on Thursday to close Police Scotland's control room in Inverness.
Its staff will move to the new hub.
Also on Thursday, Scotland's fire board approved the closure of the Scottish Fire and Rescue Service's control room in Inverness.
Up to 25 new fire service posts are to be created in the city to support the organisation's safer firefighter programme, community safety and regulations.
Mr MacAskill said the new police hub would be able to co-ordinate a major incident anywhere in Scotland.
He also said the Highlands had benefited from the new single police force.
Mr MacAskill said: "The latest figures show that crime is at an almost 40-year low in Scotland and is continuing to fall in Inverness under Police Scotland."
'A disaster'
Police Scotland said that, generally, the hub would provide support to frontline staff handling incidents and events in the Highland area.
However, it would be able, if called on, to assist officers elsewhere in Scotland.
On Thursday, the Scottish Fire and Rescue Service's board approved plans to reduce the number of control rooms, which handle emergency calls, from eight to three.
Those being lost are in Aberdeen, Inverness, Dumfries, Fife and Falkirk, while Johnstone in Renfrewshire, Edinburgh and Dundee will remain open.
The Scottish Police Authority later agreed to proposals to cut the number of its control rooms to just five.
The fire board agreed to close five of its control rooms by a vote of nine to three.
It said the implementation of the plans was expected to take three to five years.
Darren Gibb, from the Fire Brigades Union in Aberdeen, described the decision as "a disaster" for the north of Scotland.
He said there was a "great underestimation" of the local knowledge used in control rooms.