Skiers warned of terrain traps in Scotland's mountains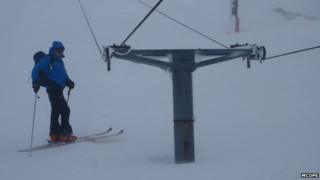 Skiers, climbers and walkers have been warned to be aware of a danger created by huge amounts of snow and high winds in Scotland's mountains.
A terrain trap is a hollow or flat area of land where avalanched snow accumulates, raising the risk of further snow slides.
The Mountaineering Council of Scotland (MCofS) said many people were unaware of the term and the threat.
It has advised mountaineers and skier to avoid such areas.
Heather Morning, MCofS mountain safety adviser, said: "An obvious example is Coire na Tulaich on Buachaille Etive Mor where, sadly, there is a history of people being buried in avalanche debris."
She said people should plan their routes carefully and consult weather and avalanche risk forecasts.
Ms Morning added: "Always be flexible and have alternative plans. Stay high - choose ridge lines and broad shoulders.
"In times of high avalanche risk avoid gullies, abrupt slope transitions and corrie basins, and remember it might not be you that triggers the avalanche, you could just be in the firing line."
Heavy snowfalls over Scotland's mountains have almost buried buildings at ski centres in Glencoe and Nevis Range.
Falling and drifting snow has also almost reached the tops of some ski tow pylons at Glenshee Ski Resort.
Earlier this month, it was claimed that the upper runs of three Scottish ski resorts had more snow than Whistler in Canada.