Inverness Gillan's Guardians of Galaxy villain unveiled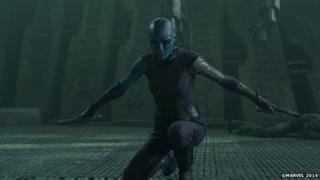 Scots actress Karen Gillan's portrayal of a comic book villain has been revealed in the first trailer for new film Guardians of the Galaxy.
Gillan, from Inverness, plays a ruthless space pirate called Nebula in the Marvel movie, which also stars Zoe Saldana and Benicio Del Toro.
The former BBC Doctor Who assistant had her head shaved for the role.
She wore a wig at last year's Comic-Con International in the US before pulling it off during a press conference.
Guardians of the Galaxy, about a group of aliens tasked with the protection of Earth in the 31st Century, will be released later this year.
Nebula is a major film role of Gillan, who played Amy Pond opposite Matt Smith's Doctor Who in the BBC science fiction series.
Other Guardians cast members include The Fast and The Furious actor Vin Diesel and Chris Pratt, who provided the voice for Emmet Brickowoski in box office hit The Lego Movie.
Bradley Cooper, who appears in the Bafta-winning film American Hustle, voices a character called Rocket Racoon in Guardians of the Galaxy.
The film forms part of Marvel's so-called "Phase 2" project.
The first phase involved the development and release of superhero movies featuring well-known comic book characters like Iron Man, Captain America and Thor.