Protests over Culloden Battlefield housing held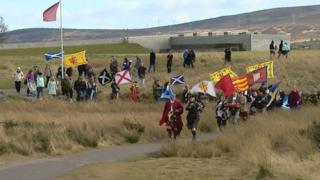 Campaigners have staged protests in Inverness and Culloden against proposed new housing next to the battlefield.
Developers have been given permission to build 16 homes about 400m from the boundary of the battle site.
The housing project has been criticised by a number of bodies, including the National Trust for Scotland.
However, the Scottish government has ruled the plans will have no impact on the historic site.
Paul Jamieson, one of the protesters at the Culloden demonstration, said: "I feel that the people that died on this field, whether they were British, whether they were clansmen, it's a sacred area to us all.
"Our history is our future and we shouldn't be developing around this area."
The development has proved controversial from its outset with the initial housing proposal being thrown out by Highlands Council.
This decision was then successfully appealed by house builders. The Scottish government said it was unlikely that the proposal would have any impact on "the character and ambience of the battlefield".
'Failing our members'
The National Trust for Scotland (NTS), which owns Culloden - the site of the last pitched battle fought on British soil - has voiced its concern over the plans.
Sir Kenneth Calman, NTS chairman, said: "As the charity entrusted with conserving our national heritage, we would be failing our 312,000 members and the people of Scotland if we did not express our ongoing concern about the decision to permit housing development adjacent to the battlefield of Culloden."
Critics of the proposal have also said they are worried any building could set a precedent for further developments which could leave the historic ground increasingly "hemmed in" by housing.
Dr Tony Pollard, director at Glasgow University's Centre for Battlefield Archaeology said: "After some soul searching, I have come out against Culloden housing development.
"If I don't say no to this I won't be able to live with myself in ten years time when the corridor to the west is covered with houses."
An online petition has raised more than 8,000 signatures against the proposed development.
A spokeswoman for the Scottish government said: "We value our historic battlefields which tell the story of our nation's past and continue to be a place of interest and importance for Scots and visitors alike.
"With respect to the application at Culloden, the reporter has followed the proper appeal process and agreed with Historic Scotland's view that given the proposed houses are to be built on an already developed site, which currently houses large disused agricultural buildings, the new development would not have an adverse impact on the integrity or significance of this nationally important battlefield."