Soil samples: 10 things you may not know about peat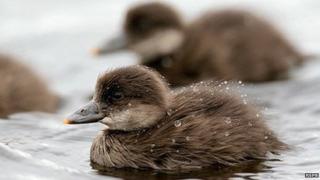 As scientists gather to discuss the latest research on peatlands at a conference in Caithness, here are 10 facts about the soil.
1. Peat is made from partly decomposed plant material and forms in waterlogged conditions. A lack of oxygen means the plants do not rot completely.
2. The Flow Country in the far north of Scotland is believed to be the largest area of blanket bog in the world, extending to 1,544 sq miles (4,000 sq km).
3. The Flow Country's peatlands have benefited from the growth of sphagnum moss and cotton grasses since the last Ice Age, more than 10,000 years ago.
4. Forsinard, an RSPB Scotland reserve in the Flow Country, provides habitat for a range of wildlife such as common scoter ducks, red and roe deer and otters.
5. In Scotland, soils such as peat store more than 3,000 megatonnes of carbon which is an asset for the environment, according to Scottish Natural Heritage (SNH). A megatonne is one million tonnes and is used to describe large amounts of CO2 emitted by power stations. SNH wants to keep carbon locked in the soil.
6. Peatlands cover less than 3% of the land surface of Earth in total, but are thought to contain twice as much carbon as the world's forests.
7. The International Union for the Conservation of Nature (IUCN) describes peatlands as a "Cinderella" habitat which has been "overlooked and undervalued".
8. An area of peatland in the north west Highlands was restored in 2011 following the filming of scenes for the movie The Eagle of the Ninth. It is understood the film company paid for the restoration, which was planned before the production started.
9. Peat has been used as a fuel for centuries and is still sold to burn in fires to heat homes.
10. Peat is sexy, apparently. Last year, an arts project called Sexy Peat was launched with an aim to encourage better understanding of the ecology and heritage of peatlands on the Isle of Lewis. Creative Scotland put funding towards the project.