Rats damage fibre optic cabling to Inverness CCTV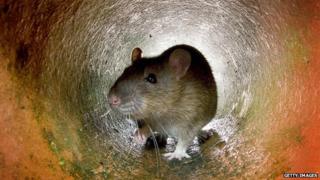 Rats caused £4,800-worth of damage to underground fibre optic cabling for a camera in Inverness' CCTV network.
Highland Council said the rodents caused the damage while sharpening their teeth on the toughened outer casing of the cable.
Repairs have been carried out and measures will be taken to better seal off the cables from rats.
Two other cameras in the CCTV system have also been replaced because of "general wear and tear".
Highland Council said: "It is not in the interest of public safety to identify where these cameras are as they are used in prevention and detection of crime."
Litter louts
There are 40 cameras covering various streets in Inverness city centre.
A new one is to be installed in Castle Wynd later this month.
Police Scotland and Highland Council jointly run the system and use it to monitor for late night disorder and litter louts.
Increasingly, camera footage has been used to detect road traffic offences and for finding missing people.
The system was used in 406 missing person cases in 2012/13 - 3% more than than three years ago, according to a report given to Highland councillors earlier this month.
Police also used the cameras in dealing with road safety incidents on 356 occasions, an increase of 4%, the report said.