MoD goes to court over Western Isles crofters' turbines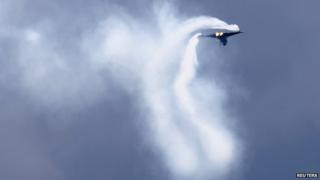 The Ministry of Defence has launched a legal action challenging a council's decision to grant three crofters permission to build wind turbines.
Comhairle nan Eilean Siar approved plans for two turbines at Bornish and one at Frobost in the Western Isles.
The MoD said wind turbines could interfere with air defence radar.
It said the machines could produce a false "aircraft-like return" and affect the detection capabilities of radar systems.
The risks arose when a certain level of proliferation of turbines in a localised area was exceeded, it added.
The MoD has raised judicial review proceedings at the Court of Session to take action over the permissions granted by the comhairle.
Counsel for the MoD, Brian Gill, said: "They relate to three different planning applications by three different crofters on the Isle of South Uist."
The MoD had objected to the proposals but, at a committee meeting of the comhairle, it was noted that councillors did not feel they had a full understanding of the technical reasons why the military was opposed to the plans.
Efforts had been made to arrange a meeting between councillors, the MoD and experts last November.
However, the meeting had to be postponed and attempts were made to reschedule it for the New Year.
Mr Gill told the court that the councillors had made the decision to ignore the efforts to meet for discussions and "bash on"
The comhairle was not represented at court hearing, but one of the crofters sought a continuation of the case.
Judge Lady Wolffe allowed a continuation so the crofter could seek legal representation.