Raigmore hospital ward closed by C. diff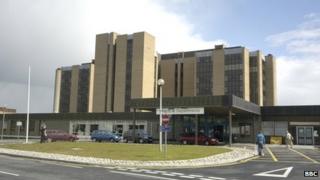 A hospital in the Highlands has been affected by an outbreak of Clostridium difficile (C. diff).
Ward 5C at Raigmore Hospital in Inverness - a non-surgical and medical ward - has been closed to new patients after the superbug was discovered.
NHS Highlands confirmed that two new cases of the bacterium had been found.
The ward has been shut as a precautionary move to prevent cross-infection and to allow specialist cleaning to take place.
Dr Jonty Mills, consultant microbiologist at Raigmore Hospital, said the risks to patients, staff and visitors was minimal and the restrictions would reduce the risk of the infection spreading.
It is the second time the hospital has had to close a ward due to C. diff, with one of its medical admission wards being affected by an outbreak last year.