Massive offshore wind farm in Outer Moray Firth approved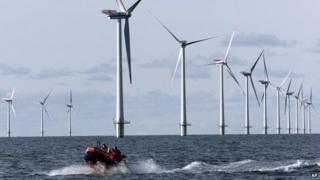 The Scottish government has given the go-ahead to a major offshore wind farm development in the Outer Moray Firth.
The two neighbouring projects - from Moray Offshore Renewables Limited and Beatrice Offshore Windfarm Limited - involve a total of 326 turbines.
The Scottish government said the combined development off the Caithness coast would be the world's third biggest offshore wind farm.
The project could generate electricity for more than a million homes.
If constructed, the scheme would have more turbines than the 175-turbine London Array.
It would also be the third largest in the world after the planned South Korea Electric Power scheme off the south-west coast of the Korean peninsula, and the Blekinge project in the Baltic Sea off Sweden. Each could generate 2.5 gigawatts of electricity.
Work for up to 4,600 people could be created at the peak of the construction of the turbines, and the combined scheme would be worth up to £2.5bn to the Scottish economy.
Energy Minister Fergus Ewing said the consents were subject to strict conditions, which include the need to monitor for impact on wildlife.
Mr Ewing said: "Scotland has the potential to lead the development of an exciting, new renewables industry as offshore wind moves into deeper waters.
"Offshore renewables represent a huge opportunity for Scotland, an opportunity to build up new industries and to deliver on our ambitious renewable energy and carbon reduction targets.
"These wind farms alone could generate gross value worth up to £2.5bn over their lifetime and generate up to 4,600 jobs during peak construction and up to 580 once in operation."
Developer Moray Offshore Renewables welcomed the consent for what it called a "significant" generation project.
Joao Manso Neto, CEO of Moray Offshore Renewables partner EDP Renovaveis, said: "This is a critical step not only in the delivery of this project, but in the development of offshore wind in deeper water, further from shore.
"This project will provide the UK with a significant new generation resource at a time when many ageing thermal powerstations are coming off-line, generation capacity is shrinking, and gas prices are rising.
"It will deliver improved security of supply, and greater insulation for consumers from volatile fossil fuel prices."
Environment group WWF Scotland has welcomed the government's decision, but said measures would need to be taken to minimise the turbines' impact on the marine environment.
Gina Hanrahan, climate and energy policy officer at WWF Scotland, said: "Climate change is the biggest threat facing our oceans and seas globally, and is already impacting on Scotland's marine environment.
"It is therefore vital that we find ways to harness the clean energy that marine renewables, such as offshore wind, can provide.
"Projects at this scale will also help to reduce costs, generate jobs, and investment opportunities while helping to keep the lights on."
Dr Richard Dixon, director of Friends of the Earth Scotland, described the consents as "great news for renewable energy in Scotland".
He added: "These two schemes alone could provide 40% of Scotland's peak power needs on a windy day.
"Offshore wind is relatively new in Scottish waters and these schemes will need careful monitoring as they are built and operated to ensure that the impacts on wildlife are minimised.
"As a global leader, Scotland can create green electricity, reduce climate emissions and generate new jobs."
RSPB Scotland said it fully supported the development of offshore wind, but had serious concerns about the Moray Firth schemes.
Aedan Smith, head of planning and development, said: "It is disappointing Scottish Ministers have decided to take such a risk with Scotland's internationally important populations of seabirds.
"We will be looking closely at the details of the consent over the next few days but we believe a smaller development could have provided very significant amounts of renewable energy with much less risk to marine wildlife."
The Scottish Fishermen's Federation has asked that the fishing industry be kept fully informed on the project and other planned offshore developments.
Chief executive Bertie Armstrong said: "Obviously, we would much prefer it if there was no interference in the traditional activities of our fishing fleet in harvesting a sustainable and much valued food resource.
"However, accepting that such developments are going to happen over the coming years, it is absolutely essential that the fishing industry continues to be fully consulted during the complicated planning and licensing processes so that the impact of offshore renewables on fishing is mitigated to an acceptable degree."
'New jobs'
Scottish Renewables, which represents the renewables industry, said the consents were the first to be granted for a large-scale, combined commercial offshore wind farm in Scotland.
Senior policy manager Lindsay Leask said: "This is a really important step forward for the industry, which has the potential to generate massive amounts of renewable power and support significant numbers of new jobs."
Three months ago, plans for a £5.4bn offshore wind farm off the coast of Tiree in the Inner Hebrides were dropped.
Scottish Power Renewables (SPR) announced it would not proceed with the Argyll Array scheme following technical and environmental site studies.