Handling of 'kill threat' 91-year-old Highland man flawed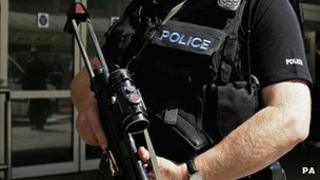 A watchdog has criticised Police Scotland over the way it dealt with a 91-year-old man who was alleged to have threatened to kill a relative.
Armed officers stopped the pensioner in his car on the A9 near Inverness on 14 November last year.
He was then held for almost six hours before being released without charge.
Police Investigations and Review Commissioner John McNeill said there were "significant failings" in the way the case was handled.
Police Scotland said it noted the release of Prof McNeill's report and said it was committed to keeping people safe.
In a 999 call, a relative of the 91-year-old man claimed the pensioner was travelling to his home in Ross-shire with the intention of killing him.
The caller told police that he believed the threat to be realistic and alleged that the pensioner may be able to get hold of firearms.
Additional training
Shortly afterwards, the pensioner was stopped by officers in three armed response vehicles on the A9 at Daviot. Four officers pointed their guns at him, before he was handcuffed and taken to Inverness police station.
He was held for nearly six hours on suspicion of making criminal threats before being released without charge.
Prof McNeill said there were "significant shortcomings and failings" in the management of the situation.
He found officers "did not have reasonable grounds to detain the man" as a suspect for making criminal threats, having failed to complete their inquiries or obtain any additional information or evidence.
He issued four recommendations which include reviewing the actions of some of the officers involved and providing additional training to officers in the detention, care and custody of prisoners.
His report said police found no information to indicate that the 91-year-old had committed any offence, or to support his relative's earlier assertions.
When police stopped the pensioner, they did not explain the grounds for his detention and he was held in handcuffs for around 17 minutes until other officers arrived and took him to the police station.
'Inappropriate remarks'
The PIRC said the 91-year-old should have been intercepted by officers using less force, and should have been released from his detention at a "much earlier stage".
He also said the control room sergeant "did not possess sufficient information or intelligence to declare a firearms incident" and that the subsequent deployment of armed officers was not in accordance with national guidance.
The report also noted none of the relevant officers ensured the man was properly searched at Inverness police office, and that a detaining officer made "wholly inappropriate remarks" in relation to the grounds for detention.
The commissioner said: "In this case, there were significant failures in various police processes and I have made a number of findings and recommendations to Police Scotland to address these issues.
"These include additional training for officers involved in the detention, care and custody of prisoners which would go a long way to assuring the local population that officers at Inverness police office understand and comply with the legal requirement to make all detainees aware of their rights.
"I am also of the view that further training would be beneficial for officers undertaking the role of Initial Tactical Firearms Commander in respect of information gathering, record retention and decision making."
Asst Ch Cons Bernard Higgins said the force would respond in full to the commissioner's report and recommendations.
Mr Higgins said: "Police Scotland is committed to keeping people safe and officers across Scotland continually work to ensure the service we provide to our communities meets this commitment.
"Police Scotland has progressed significantly in a number of key areas since 1 April 2013 including some of the issues raised by the PIRC within their recommendations."