New mapping technique may aid Scottish shark projects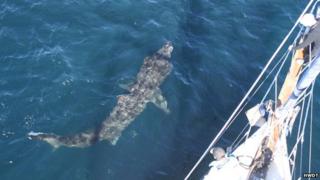 Satellite imagery of microscopic life in the seas around Scotland could boost understanding of the world's second largest fish, a new report suggests.
In a Scottish first, maps have been produced to show ocean front boundaries phytoplankton blooms and plumes of sediment off the coast.
Phytoplankton and certain sediments provide food and nutrients for animals.
These include huge basking sharks, as well as smaller fish which provide prey for seals and seabirds.
In the study commissioned by Scottish Natural Heritage (SNH), scientists from Plymouth Marine Laboratory said mapping techniques could offer additional information on the behaviour of satellite-tagged sharks and birds.
For the study, researchers processed 10 pieces of satellite data from more than 6,000 ocean colour scenes available from the European Space Agency's Envisat satellite from 2009 to 2011.
The locations of ocean fronts - boundaries between different water types - are important foraging areas for many animals, including basking sharks.
Researchers looked at blooms and plumes along the coasts of Aberdeen to the Firth of Forth, Fair Isle, Galloway peninsula and the Clyde and Tiree.
Some research was also done on the sea off the Uists in the Western Isles.
The main purpose of the study was to help the development of marine protected areas, or MPAs.
Basking sharks are the world's second biggest fish - behind only the whale shark - and can grow to 11m (36ft) and weigh up to seven tonnes.
SNH and the University of Exeter are involved in a project tracking satellite tagged basking sharks.
In 2012, eight sharks were tagged off Scotland's west coast and their travels could be followed online.
One of the sharks was tracked to the west coast of Portugal and another swam 3,000km (1,864 miles) to the Canary Islands off west Africa.
Sightings of basking sharks off Scotland's west coast increased last year, according to the Hebridean Whale and Dolphin Trust (HWDT).
The results of the organisation's latest research survey included 32 encounters with the massive fish.
Fifty sharks were counted over just nine days in June during the trust's annual study.
Up until 19 years ago, basking sharks were hunted in the seas off Scotland for their liver oil.
They have no teeth and feed on microscopic plankton by opening wide their huge mouths.
Every summer the sharks gather in large numbers around small islands, such as Tiree, off Scotland's west coast, where they are sought out by scientists and wildlife watchers.