Saharan desert dust dirties Scotland's windows and cars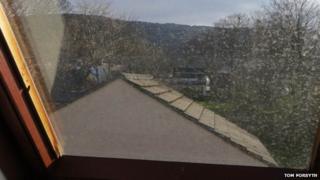 Saharan dust contributing to high levels of air pollution in parts of the UK has fallen over the Highlands and north east Scotland.
The fine desert dust has been spotted on windows and cars in Ullapool and Aberdeen.
Defra has said that parts of eastern and north-west England, the Midlands, north Wales and south-west Scotland would be worst-hit by the pollution.
Warnings have been issued for people who suffer from breathing problems.
People with lung and heart conditions, as well as those with asthma, in the worst affected areas have been urged to take precautions.
The smog-like conditions, which are expected to clear on Friday, are caused by a mixture of local and continental pollution, and dust from the Sahara.
Tom Forsyth, who lives in Ullapool and has croft on the Scoraig peninsula, first noticed the dust on Wednesday morning.
He said: "I saw it on my skylight. It had just rained enough for the dust to be brought down, but not wash it away."
Mr Forsyth said he and others had seen a smoke-like haze where they live in the north west Highland. The haze could also be seen in Inverness on Wednesday evening.
The crofter also said he was among people living locally who had spoken to their GP about sore throats and itchy eyes, conditions believed to be linked to the dust.
Scotland has been affected by natural and man-made events hundreds, and even thousands, of miles away in the recent past.
Volcanic eruptions in Iceland in 2010 and 2011 severely disrupted flights to and from Scotland, and other parts of the UK and the world.
Following the 2011 eruption, British Geological Survey (BGS) gathered samples of ash from Kirkwall, Strathpeffer, Muir of Ord, Inverness, Nairn and Aviemore.
Samples were also been sent in from Selkirk, Kelso, Dunfermline and from near Perth, Edinburgh and Glasgow.
Also in 2011, very low levels of iodine-131 were detected in air samples from across Scotland after the Japanese Fukushima nuclear plant was crippled by an earthquake.
The Scottish Environment Protection Agency (Sepa) said the incident had not posed a significant risk to Scotland.
Iodine-131 believed to be from the plant was first detected in March 2011.
Samples from Ayrshire, Caithness, Dumfries and Galloway, Lothian and Shetland were checked for Iodine-131 (131I) as part of routine analysis of air quality.
The Chernobyl nuclear power plant explosion in April 1986 contaminated upland areas of Scotland, England and Wales.
Heavy rain followed the explosion washing radioactive decay products - mostly caesium 137 - out of clouds and onto fields.