Reward for information on bird poisonings doubled to £10,000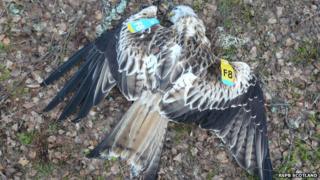 The reward for information on bird of prey deaths in the Highlands has been doubled to £10,000.
Four buzzards and 12 red kites have been found dead near Conon Bridge in recent weeks.
Tests on the carcasses have found poison in several of the dead birds.
RSPB Scotland said an anonymous donor had added a further £5,000 to the existing reward fund for information leading to a conviction.
All of the carcasses were discovered in a two square mile area to the south east of Conon Bridge around Conon Brae, Balvail, Leanaig and Alcaig.
Duncan Orr-Ewing, head of species and land management at RSPB Scotland, said: "This appalling incident highlights the very real threat illegal poisoning poses to fantastic species like red kites.
"The vulnerable Black Isle population in particular has been repeatedly hit by deaths due to illegal poison use.
"The Chilterns population in Southern England is nearly ten times bigger, yet both projects started at the same time in 1989 with the same number of birds released into the wild. That is a shocking indictment on behaviour of some in this part of rural Scotland.
"An anonymous donor deeply concerned at the illegal killing of the red kites has come forward to increase our reward for information leading to a prosecution to £10,000.
"We urge anyone with information to contact Police Scotland as soon as possible."
Police are working with the RSPB, the Scottish SPCA and experts from the Scotland's Rural College on the investigation.
Officers are advising anyone who finds any further dead bird of prey to note its location and inform them, without attempting to recover it as the remains may be toxic.