Miss Piggy: Harris Tweed's new style icon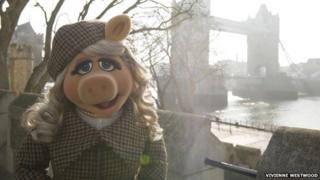 Miss Piggy has emerged as the latest high profile TV and film character to bring attention to Harris Tweed.
Hand-woven on the Western Isles, clothing made from the fabric has already been worn by Ben Affleck in spy film Argo and Matt Smith as Doctor Who.
Vivienne Westwood designed the tweed outfit and other costumes Miss Piggy wears in the new Muppets movie.
Before the movie's release, Westwood posted a picture on the internet showing the Muppet in tweed.
The picture was taken with Tower Bridge in the background. A wedding dress Miss Piggy wears was also designed by Westwood.
The latest film, Muppets Most Wanted, stars British comic actor Ricky Gervais.
The Harris Tweed Authority welcomed the appearance of Muppets in the fabric.
A spokeswoman said: "This is an most iconic partnership of true Hollywood, classic Westwood design and the the very finest cloth in the world.
"Really, we would have expected nothing less of film's most stylish lady to be dressed in Harris Tweed this season."
US actor Affleck wore Harris Tweed in the Oscar-winning film Argo.
Following the movie's release, the real secret agent Affleck portrays, Tony Mendez, revealed that Harris Tweed jackets were the "uniform" of CIA agents when working overseas.
Sean Connery wore Harris Tweed in 1989's Indiana Jones and the Last Crusade.
But for filming in Petra in Jordan, a Harris Tweed pattern was screen printed onto cotton for the Scots actor in hot temperatures.