Number of birds of prey found dead in Ross-shire rises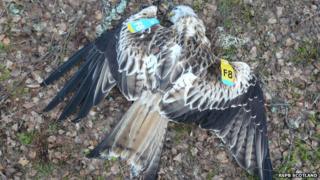 The number of raptors found dead in a part of Ross-shire has risen to 18, according to RSPB Scotland.
Thirteen red kites and five buzzards have been found near Conon Bridge, with tests showing several had been poisoned.
All of the carcasses were discovered in a two square mile area to the south east of Conon Bridge around Conon Brae, Balvail, Leanaig and Alcaig.
The RSPB has been working with police in investigating the deaths.
The Scottish SPCA has also been involved.