Police searches in dead birds probe in Ross-shire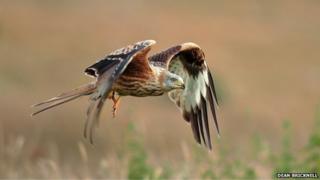 Police have been carrying out searches in an area where 19 birds of prey have been found dead.
The dead raptors have been found in one part of Ross-shire in the past two weeks, with tests confirming 12 were poisoned.
Police Scotland said officers were searching in the Conon Brae area as part of inquiries into the deaths.
A spokeswoman said landowners in the area were co-operating with the operation.
Fourteen red kites and five buzzards have been found dead. Tests have shown nine kites and three buzzards had eaten a poisonous substance.
RSPB Scotland said "a dignified public protest" over the deaths would be held in Inverness city centre on Saturday afternoon.
A reward for information following the deaths has also increased to £26,000 after a £12,000 donation from farmers and landowners and money sent in from the public.
The £12,000 donation has been made by members of Scottish Land & Estates and NFU Scotland.
The RSPB initially put up a £5,000 reward.
This was doubled by an anonymous donation, with further pledges coming from members of the public.