Substation fault caused huge north Scotland power cut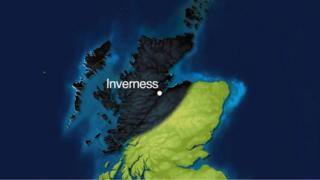 A fault at a substation was the cause of a power outage which affected more than 200,000 properties across the north of Scotland last week.
The electricity supply was lost on Wednesday evening.
A helicopter was brought in to inspect 55 miles (88.5km) of power lines between Moray and Inverness in an effort to identify the problem.
Finance Secretary John Swinney told MSPs that the cause was found to be a faulty electronic relay near Inverness.
He said the relay at Knocknagael, a recently redeveloped substation at Essich, had "malfunctioned".
This fault caused circuit breakers to open, shutting off the power but also preventing "more protracted and significant damage" to the system supplying the north and north west of Scotland.
Mr Swinney said electricity supplies to most of the affected properties were restored by Thursday morning, but it had taken longer to return power to homes in Orkney.
The minister was answering a question from SNP MSP Rob Gibson on the cause of last week's power cut.