Flybe to offer Inverness and Edinburgh to London City flights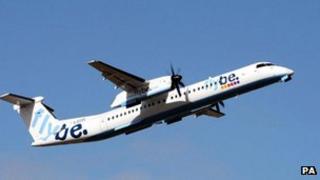 The airline Flybe is to start flights between Inverness and London City airports from October.
The twice daily service forms part of a five-year deal with London City.
The agreement also involves a four times daily service between Edinburgh and London.
Flybe operated a service between Inverness and Gatwick Airport before selling the slots to Easyjet in a £20m deal last year.
The new flights will start from 27 October.
Flybe's chief executive officer Saad Hammad said the new route did not involve re-instating its former base at Inverness Airport.
He told BBC Radio Scotland: "Sadly and regrettably we had to shut down our smaller bases, including our Inverness base, but that does not mean we are stopping our services."
Mr Hammad added: "We are not going to have a local base at Inverness."
The airline expects the new Inverness and Edinburgh routes to appeal to business travellers.
Mr Hammad said: "We have taken into consideration how appealing London City is for business travellers looking to be in the heart of London by 09:15, as well as getting home the same evening."
The announcement of the new Inverness route has been welcomed by Highlands and Islands Airports Ltd (Hial) and the Scottish Council for Development and Industry (SCDI).
Fraser Grieve, of the SCDI, told BBC Radio Scotland: "London City doesn't offer the external connectivity that Heathrow and Gatwick does, but in terms of access into the heart of the city it is ideal for business."