Thousands of cyclists compete in Etape Loch Ness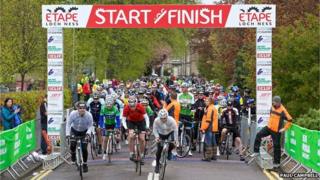 More than 1,000 cyclists descended on Loch Ness for the first-ever closed-road event around the loch on Sunday.
Experienced riders and novices took part in the 67-mile-long Etape Loch Ness cycle sportive, which included an ascent at Glen Doe above Fort Augustus.
Organisers said that the event raised more than £30,000 for MacMillan Cancer Support.
It was won by Alan Dean from Edinburgh who completed the circuit in 2 hours 55 minutes.
The fastest woman was Lynne Fraser from Deeside Thistle cycle club who finished in three hours 26 minutes.
Organiser Malcolm Sutherland said it had been a great success.
He said: "The feedback we have received from participants has been really encouraging.
"People have come from all over Scotland and the rest of the UK as well as Europe, which is fantastic for the local economy and great to showcase the Highlands as a fantastic stage for events like this."
"The route is absolutely incredible and we are very positive about this becoming an annual event."