Changes to how millions will be spent on Dounreay clean-up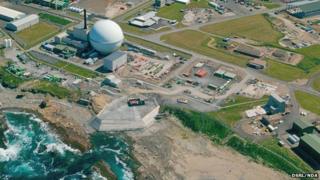 Staff at the Dounreay nuclear power complex in Caithness are to be briefed on changes to how millions of pounds will be spent on cleaning up the site.
Cavendish Dounreay Partnership, which runs Dounreay Site Restoration Ltd, said the changes followed decisions on how nuclear material will be handled.
Dounreay's material is being transported to Sellafield in Cumbria.
This means funds will not need to be spent on building high-security stores at the Scottish site.
However, it will mean money will have be found, and spent, earlier in the clean-up project. A detailed new plan on spending is expected this autumn.
DSRL said staff were being briefed now on the proposed changes.
The decision to transfer the material to Sellafield was made by the Nuclear Decommissioning Authority.
New work
DSRL managing director Mark Rouse said the changes removed "modernisation costs" from later years and also "substantial security costs" from the long-term care and maintenance of Dounreay.
He added: "But it does require significant preparation and handling operations, and will add transport and associated security costs in the next few years of the decommissioning programme.
"In order to insert the removal of the fuel into the earlier years of the programme and release the several hundred million pounds needed to fund this, some other work that had been planned for this period needs to be moved out to later years."
DSRL said it expected no reduction in supply chain spending and will be looking to place "substantial additional new packages of work" into the chain over a longer period of time than originally planned.
Cavendish Dounreay Partnership aims to have its clean up work on the site finished by 2025.