Police Scotland deny 'militarisation' claim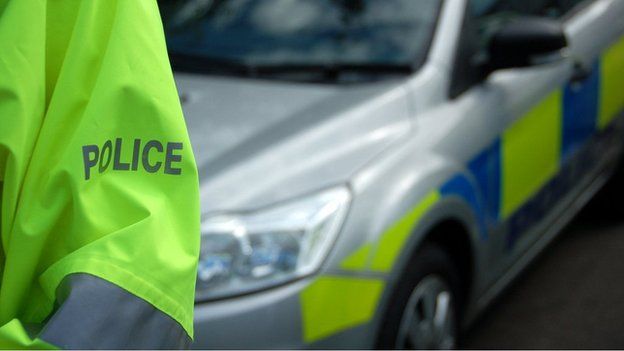 A "limited number" of armed officers across Scotland have been permitted to routinely carry hand guns, Police Scotland has said.
Before the launch of Scotland's single police force, firearms officers had to collect weapons from a secure area or a safe in an armed response vehicle.
In a letter to MSP John Finnie, a senior officer said officers were now able to respond faster to incidents.
Mr Finnie has raised concerns about the "militarisation" of police.
The Independent Highlands and Islands MSP wrote to Assistant Chief Constable Bernard Higgins, and has made public the senior officer's reply.
In the letter, Mr Higgins denied Mr Finnie's accusation that police were being "militarised".
He said firearms officers and armed response vehicles (ARV) had long played a role in policing Scotland.
The officer said: "However, with the creation of Police Scotland the decision was taken to provide a standing authority for a limited number of trained ARV officers to overtly deploy with side arms and less lethal weapons.
"The reason for this was quite simple - where there is a delay in a firearms officer responding to an incident where there is a firearms threat then this unnecessarily puts the public and unarmed police officers at greater risk.
"No longer do officers have to stop en-route to an incident and arm themselves, a process that can take anything from 10-20 minutes, they can now deploy directly to a scene and provide that immediate protection.
"The standing authority also allows them to deal with an immediate threat as a result of an unexpected encounter."
Mr Higgins said he believed the move gave "a greater level of protection" to communities and this could be delivered more effectively.
He added that, when not deployed on firearms operations, it was "right and proper" firearms officers supported local, unarmed police on routine duties.
Dave Thompson, SNP MSP for Skye, Lochaber and Badenoch, has also now raised concerns about police officers routinely carrying guns.
He said: "Violent crime in Scotland is at a near all time low, not least because, unlike elsewhere in the UK, the Scottish government has maintained police numbers in Scotland.
"Crime in the Highlands and Islands is at such a low level it is one of the big reasons why people choose to come and live and work here. Something clearly undermined if innocent shoppers and street goers see officers carrying firearms as if there is an incident about to happen."
Related Internet Links
The BBC is not responsible for the content of external sites.