New BBC TV series to showcase Scottish Highlands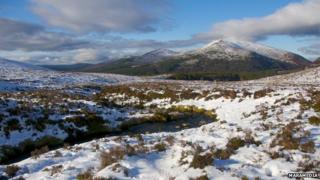 BBC Scotland and BBC Two have commissioned a new four-part series on the Scottish Highlands.
The programmes are being made by Maramedia, the same company that produced the Bafta-nominated series Hebrides - Islands on the Edge.
The Hebridean series was narrated by Scots actor Ewan McGregor.
Highlands, which began filming earlier this year, is a two-year project which is expected to transmit sometime in 2016.
The filming team includes award-winning Scottish cameraman Gordon Buchanan, as well as cameramen Lindsay McCrae, of Cumbria, and Raymond Besant, who grew up in Orkney and now lives in Aberdeenshire.
Craig Hunter, executive producer for BBC Scotland, said: "This series is putting the kind of focus on Scottish wildlife, usually reserved for what we normally think of as exotic locations, and harnessing it all from the big to the small to showcase it in a dynamic and captivating way.
"This forms part of BBC Scotland's commitment to a broad range of documentaries that show and reflect diverse aspects of life in Scotland - from the rural to the urban, from the historical to the contemporary."