Peak time restrictions on Kessock Bridge lifted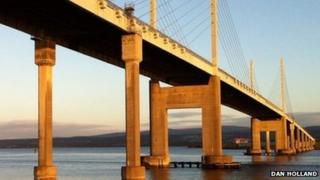 Peak daytime restrictions on the Kessock Bridge at Inverness have been lifted as major roadworks on the crossing near completion.
Transport Minister Keith Brown has visited the bridge on the A9 to see the improvements made to the road's surface.
One lane in each direction on the crossing has been closed since February.
The roadworks are part of a £13.2m resurfacing and repair programme.
About 30,000 vehicles use the bridge every day making it one of Scotland's busiest crossings.
The first phase of the resurfacing works took place last year. During that time, 1,000 fewer cars used the crossing.
Transport Scotland said the bridge had been completely refurbished with a "new resilient, state of the art road surface".
It said the surface should stay repair free for 30 years.
Safety barriers have also been replaced in the central reserve and footways. The bridge deck expansion joints have been replaced and the main bridge cables re-tensioned.
The crossing's pedestrian/cycle path has been resurfaced using the same material as the carriageway and the parapet rails have also been improved.
Work on the bridge will continue at night and during off-peak hours.
'Unique properties'
Mr Brown said the work was one of the largest trunk road bridge maintenance projects ever undertaken in Scotland.
He said: "Inverness deserves top class transport links and that is what the Scottish government is delivering.
"Overall we have spent more than £15m on the refurbishment of the bridge and the other infrastructure improvements associated with the project.
"These include local junction improvements on the A9 and A82 at Longman Roundabout, the construction and reopening of Conon Bridge Railway Station and the extension of the car park at Beauly Station."
Mr Brown thanked motorists for their patience during the roadworks.
Highland Council leader Drew Hendry welcomed the lifting of daytime restrictions.
He said: "The travelling public are due our thanks for their patience during the two periods of resurfacing. Many will recognise the long term benefits of the investment.
"The major investment in the Kessock Bridge over the past two years is hugely welcome in the Highlands. This is a big success story for our very special area."
Eddie Ross, of Bear Scotland, said it was the first time a road surface called Gussasphalt has been used in Scotland.
He said: "Its unique properties mean that the road surface should remain repair free for the next 30 years.
"The installation of the new safety barriers is also a first for Scotland."