Rowers leave St Kilda for 100-mile journey to Skye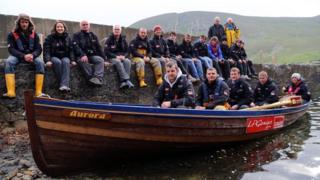 A team of eight rowers have set off in an attempt to row 100 miles (161km) from St Kilda to Skye in a renovated 120-year-old rowing boat.
Until last month, the last time the rowing boat was in the sea was more than 100 years ago.
The rowers, who are raising money for the RNLI and Skye and Lochalsh Young Carers, have a support crew with them.
They hope to complete their journey in 38 to 48 hours. The rowers have spent two years preparing for the venture.
Five of the eight crew are volunteers with Portree RNLI.