Priorities set for 20-year vision for Inverness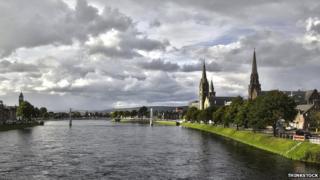 Highland councillors have set out to three key priorities for Inverness as part of a 20-year vision for the city.
They include improving access to the city centre, developing Academy Street and redeveloping Inverness Castle to create more visitor attractions.
Academy Street is in the city centre, while the castle serves as a sheriff court.
An action plan will be created to guide regeneration and improvements to the city over the next two decades.
Ian Brown, leader of the council's city of Inverness area committee, said: "This is all about building on the vibrancy and vitality of our city centre.
"The action plan aims to increase the number of people using the city centre and to keep it firmly on the map as the capital of the Highland's shopping, business and social hub."