Mountaineering council warns of snow risk on Ben Nevis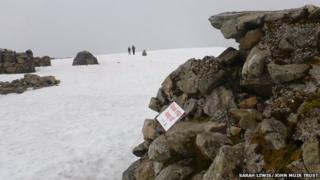 Snow continues to pose a risk to walkers and climbers tackling routes on Ben Nevis, the Mountaineering Council of Scotland (MCofS) has said.
It said that while it was warm enough down in Fort William to wear t-shirts, wintry conditions persisted at the summit of Britain's tallest mountain.
Risks include large overhanging ledges of snow called cornices which can be mistaken as solid ground.
MCofS said there had been "exceptional snowfalls" over high ground in winter.
Heather Morning, the council's safety advisor, said: "Walking on snow in summer can really add to your day out on the hill and be a lot of fun if the snow is relatively flat.
"However, be warned. If you take a slip and start to slide is there a chance that slide could take you over the edge?"
She added: "There are still large cornices on Ben Nevis and many other Scottish Munros.
"Care should be taken to avoid these and stay on the rocky terrain - particularly in misty conditions when it might be difficult to see the edge."