SSE says Strathy South project will restore peat bog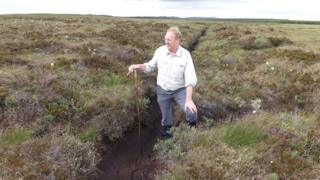 SSE has said its proposed 47-turbine Strathy South wind farm has backing from local communities and would have a positive effect on a fragile habitat.
It said thousands of acres of degraded peat bog in Sutherland would be restored as part of the project.
Strathy and Armadale Community Council supports the planning application which Highland councillors will consider on Monday.
Scottish Natural Heritage and the RSPB warn the farm could impact on birds.
Highland Council planning officials have recommended that councillors raise no objection to the project on condition that it is reduced in size by eight turbines.
Perth-based SSE Renewables has welcomed the recommendation.
The company's Colin Nicol said: "SSE is a responsible developer with an established Highland heritage.
"We have demonstrated that Strathy South wind farm is a carefully designed proposal which would generate clean energy and restore thousands of hectares of damaged peatland in the Flow Country.
"It would also create major investment in the local and wider Highland economy, as is already happening at our nearby Strathy North wind farm."
The site is an area of commercial forestry where the trees have caused damage to peat bog.
SSE said the project would involve the area's biggest restoration effort and 12 sq miles (34 sq km) of bog.
SNH and RSPB Scotland have concerns that the turbines proposed pose a threat to birds such as raptors, waders and divers.
Following SSE's latest statement on Strathy South, RSPB Scotland said harmful tree plantations were already being removed from areas of the Flow Country.
The charity is involved with the Peatland Partnership, a project to restore seven square miles (18.1 sq km) of blanket bog in Caithness and Sutherland.
RSPB Scotland said it supported renewable energy schemes, but said the Strathy South project would see trees replaced with a new problem in the form of turbines.