Ratho adventurer Nick Hancock begins Rockall solo bid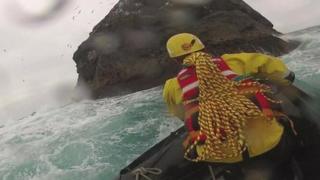 A Scots adventurer has landed on the Atlantic rock Rockall for the start of his bid to live alone on it for a record breaking 60 days.
Nick Hancock, from Ratho, near Edinburgh, was forced to abandon a similar attempt in June last year.
The record for longest occupation of Rockall was set in 1997 by three Greenpeace campaigners who lived there for 42 days.
Above the sea, the rock is just 100ft (30m) wide and 70ft (21m) high.
In an email sent from his laptop in his living pod, Mr Hancock confirmed that all was well and that his equipment seemed to be in good working order.
He wrote: "All well on Rockall. Landing went smoothly and no kit damaged, so couldn't be a better start really."
Heavy seas with swells as high as 26ft (8m) prevented Mr Hancock from landing on Rockall last summer.
After abandoning the bid, he made the long boat trip back to Leverburgh on Harris.
Rockall, an eroded volcano, lies 260 miles (418km) west of the Western Isles.