Ratho adventurer Nick Hancock pictured on Rockall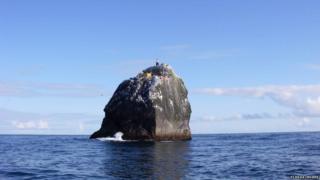 An adventurer has had images sent back home from a remote rock in the Atlantic where he plans to spend 60 days.
Nick Hancock, from Ratho, near Edinburgh, landed on Rockall earlier this week with his temporary accommodation dubbed the RockPod.
The record for longest occupation of Rockall was set in 1997 by three Greenpeace campaigners who lived there for 42 days.
Above the sea, the rock is just 100ft (30m) wide and 70ft (21m) high.
Rockall, an eroded volcano, lies 260 miles (418km) west of the Western Isles.