Unesco honour for Edinburgh's Carmichael Watson archive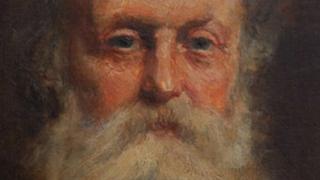 A collection of Gaelic culture and history has been recognised as one of the world's most important archives.
The Carmichael Watson Collection is one of nine UK archives that will be registered with the Unesco Memory of the World Programme this year.
The collection is a record of traditions and folklore gathered in the 19th Century by Alexander Carmichael. It is held by Edinburgh University.
Carmichael was born on the Isle of Lismore in Argyll in the 1832.
After leaving he school he worked as an exciseman, a job that involved collecting taxes for the government and intercepting illegal goods.
He served in Greenock, Dublin, Islay and Carbost on Skye.
Carmichael's work brought him into contact with people whose way of life had been affected by the Highland Clearances and industrialisation.
The clearances saw communities moved off land in the 18th and 19th centuries to make way for large-scale sheep production.
Alexander Carmichael is not alone in being concerned with taxes, balancing books, but also culture. He worked as an exciseman, a role that involved collecting taxes for the government and intercepting illegal goods.
Poet Robert Burns, above, also had a stint as an exciseman.
LS Lowry, known for his paintings of industrial landscapes of northern England and also created scenes from northern Scotland, worked as chief cashier at the Pall Mall Property Company in Manchester throughout his artistic career.
From 1860, Carmichael spent 50 years collecting legends, songs, curses and oral history from Gaelic-speakers.
He recorded rare, and sometimes secret, traditions such as traditional blessings and charms. His notes contained information on legends of monsters in lochs, clan battles and Gaelic insults.
Carmichael's work has led to him being likened to Germany's fairytale storytellers, brothers Grimm.