Scottish independence: Lewis referendum debate to be aired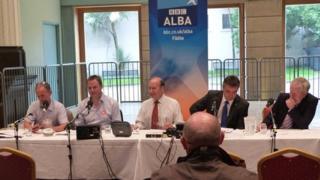 A BBC Radio Scotland independence referendum debate held on Lewis is to be aired.
The event - offering the chance to question some of the region's leading figures - was held on Wednesday in Stornoway Town Hall.
Recorded in front of a mixed audience of "Yes", "No" and undecided voters, the debate was chaired by BBC Scotland's Craig Anderson.
The full debate can be heard on FM between 17:00 and 18:00.
It will also be available online.
The referendum will be held on 18 September when voters will be asked the Yes/No question: "Should Scotland be an independent country?"