MoD 'admits liability' for RAF jet crash airman's death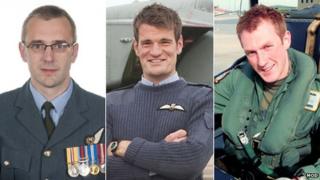 Lawyers acting for one of three airmen killed in an RAF jets crash have said the Ministry of Defence has admitted liability for his death.
Sqn Ldr Samuel Bailey, 36, had been suffering from a fear of flying in the weeks prior to the incident.
He was in one of two Tornado GR4s that collided on 3 July 2012.
An MoD spokeswoman has confirmed that they now accept liability for the airman's death, and would continue "to liaise closely" with his family.
Insurers acting for the MoD have contacted solicitors Irwin Mitchell.
The move paves the way for compensation for Sqn Ldr Bailey's wife, Fiona, who was serving at RAF Lossiemouth from where the two Tornados had flown on separate training sorties.
She was on duty at the time of the collision.
The 37-year-old said: "Getting this admission of liability is extremely important to me and our daughter in that my husband's good name has been maintained and no fault has been attached to his actions in the incident.
"Our lives were devastated back in July 2012 and we have waited a long time to find out exactly what went wrong on that day.
"We are relieved that we will now finally see some justice for what happened."
Sqn Ldr Bailey, from Nottingham, died along with Bangor-born Flt Lt Hywel Poole and Flt Lt Adam Sanders, 27, who grew up in Lancashire.
Sqd Ldr Paul Evans, from RAF Lossiemouth, survived but was badly injured.
The crash happened over the Moray Firth, off the coast of Sutherland, near Helmsdale.
The crews were on separate training sorties at the time and were heading for a firing range at Tain in Easter Ross when they collided.
A MoD spokeswoman said: "The purpose of the Service Inquiry was not to attribute blame, but to ensure that we learn lessons from this tragic incident and do whatever we can to prevent it from happening again.
"The MoD has accepted liability for this incident and will continue to liaise closely with the families affected.
"As this is subject to further legal proceedings it would be inappropriate to comment further."
'Safety barrier'
A report on Military Aviation Authority's investigation into the collision was made public on Monday.
It said Sqn Ldr Bailey's condition did not directly cause the accident, but was probably a factor.
Another factor was the lack of anti-collision equipment on the jets.
In its report, the Military Aviation Authority (MAA) said there was "much opportunity for this mid-air collision to be prevented".
It noted that there was no collision warning system (CWS) on board the Tornado fleet.
A system has been recommended for many years but installation was repeatedly delayed.
The report said it was unfortunate that this "final safety barrier" which would have made the crews aware of their close proximity did not exist.
The MAA indentified 17 contributory factors and seven other factors in the accident.
Contributory factors included poor weather conditions, "ineffective supervision" at squadron level of the aircraft involved and "shortcomings in the management process".
'Crisis point'
Another factor was that there had not been a formalised and effective care plan for Sqn Ldr Bailey, a weapon systems operator and instructor who had a fear of flying at medium level.
While not named in the report, he was described an experienced instructor who had previously served in Iraq.
He had sought help for his condition, the MAA report said.
In April 2012, Sqn Ldr Bailey said he had reached a "crisis point" and "could not face flying".
He was diagnosed with a phobic anxiety disorder. He stopped flying for a time, before returning to the cockpit.
The report said on the day of the accident, the jet he was in made a "rushed" descent to low level and this was done in "marginal weather" conditions.
While there was no evidence that Sqn Ldr Bailey's anxiety affected his decision-making, the report said his decisions were "not commensurate with his recognised experience and professional standing".