Supplies loss could thwart Nick Hancock's Rockall record attempt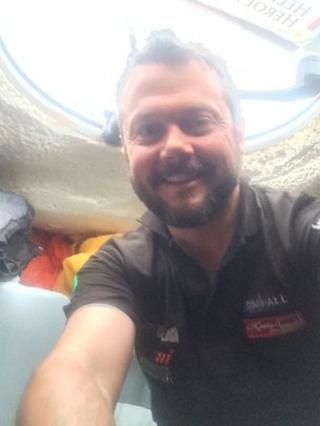 An adventurer may have to abandon his second attempt to stay on the remote Atlantic rock of Rockall for a record 60 days.
Nick Hancock, from Ratho, near Edinburgh, has lost supplies in a storm that battered Rockall in the early hours of Wednesday.
The chartered surveyor has spent 28 days on the 70ft outcrop, 260 miles (418km) west of the Western Isles.
He is now assessing how much longer he can remain.
The record for a solo occupation of Rockall is 40 days set by Tom McClean in 1995.
Three members of Greenpeace also stayed on for 42 days in 1997.
Four barrels containing Mr Hanock's supplies were washed away in the storm, which lasted several hours.
Stornoway Coastguard had said that Force 8 winds had been forecast in the Rockall area on Tuesday night.
Mr Hancock is staying in accommodation dubbed the RockPod, a bright yellow structure made from a water tank.