Taking Queen's baton to St Kilda crazy, says councillor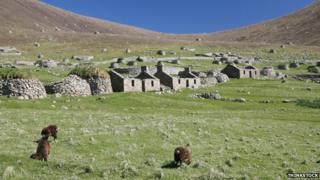 A Western Isles councillor has described taking the Queen's Baton to uninhabited St Kilda, instead of populated islands, as "crazy".
Donnie Steele said communities in North Uist, Berneray and South Harris have missed out.
The baton was flown to St Kilda, a remote archipelago abandoned by its last residents in 1930, by helicopter.
Glasgow's Commonwealth Games organisers said the relay route was arranged in partnership with local authorities.
A spokesman said local insight "drove the choice of locations".
The Queen's Baton Relay does include the Western Isles' islands of Lewis, North Harris and Benbecula.
Mr Steele said some communities had missed out on the games-related celebrations, and described the move to fly it to St Kilda as a "publicity stunt".
He said: "The decision to miss other populated islands in the Western Isles goes against the ethos of the games and the well-publicised visit.
"I hope the puffins, fulmars and Soay sheep enjoy their visit and are as enthusiastic in their support as the children of our islands who yet again, not considered worthy by a faceless decision maker who doesn't know what it means to live on an island and the joy such visits give.
"A crazy decision."
Hirta, the main island of St Kilda, does provide a temporary home for National Trust for Scotland staff and volunteers and contractors operating a radar station on behalf of the Ministry of Defence.
In a statement, games organisers said: "Local insight drove the choice of locations, which were selected to give as many people as possible the opportunity to feel part of the Queen's Baton, and interact with it at community events.
"At the heart of this collaboration is a strong commitment to have a large number of people sharing Scotland's countdown to the Commonwealth Games, and being part of the global journey that unites the people of Scotland to a rich and diverse family of communities across the Commonwealth."
The statement added: "For the first time in the history of any relay, all secondary schools in Scotland have been asked to nominate a student baton bearer, meaning even more communities are represented."