Firefighters tackle wildfire in Scoraig peninsula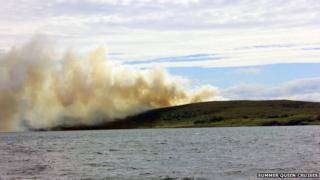 Firefighters in the Highlands have tackled a wildfire on the Scoraig peninsula.
Four crews attended the scene and photographs from the area showed huge plumes of smoke rising into the sky.
One witness said fire crews had to reach the area by boat.
As well as homes and forestry, the area is home to a pair of rare white-tailed sea eagles who have settled on the coast, the first to do so in more than 100 years.