Scotland's island airports boost Hial passenger numbers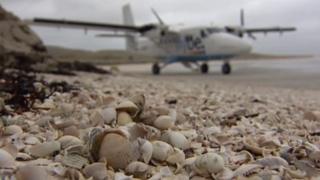 Passenger numbers at Scotland's regional airports grew by almost 8,000 during the last quarter, with island airports driving growth.
Highlands and Islands Airports Limited's (Hial) latest figures cover April to June and show a total increase of 2.2% on the same period last year.
All the group's island airports recorded growth.
Sumburgh on Shetland handled 9,634 extra passengers and Stornoway on Lewis 2,049 more passengers.
Barra was the fastest growing airport with a 22.1% increase in passenger numbers, representing an additional 569 passengers.
Benbecula attracted an extra 717 passengers, a rise of 9.1%, while Kirkwall in Orkney handled an extra 1,047 passengers - an increase of 2.2%.
At Islay, passenger numbers grew by 2.9%, representing an extra 234 passengers.
Inverness handled 1,034 more passengers as demand increased on its Amsterdam, Belfast, Birmingham, Manchester, the Western Isles and Northern Isles routes.
However, passenger numbers at Wick John O'Groats fell during the quarter by 39.3% compared to last year.
At Dundee, a new public service obligation service to London Stansted was launched at the end of March.
Hial said that because it was a new service, the initial uptake had been slow. As a result, passenger numbers at Dundee fell by 27.6%.
Passenger numbers were also down slightly at Campbeltown.
Inglis Lyon, managing director of Hial, said growth at the island airports was "very encouraging".
He added: "The increased demand for island services is particularly good news for those local communities and underlines the role our airports play supporting the economic growth of these areas.
"The energy sector continues to drive growth at Sumburgh, where Hial is investing in improved facilities, and the launch of a tender process to build two new aircraft to serve Barra, Campbeltown and Tiree is further good news for the long term future of air routes for these communities."