Inverness West Link: Tesco's expired offer to be discussed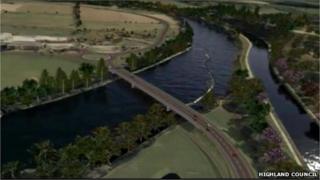 Highland councillors are to be asked for their views on a dispute between the local authority and Tesco about a contribution towards a new road.
The supermarket chain offered to put up £340,000 towards the cost of the proposed Inverness West Link.
However, the offer was dependent on the completion of the road by 2011.
Planning permission was secured for Highland Council's £34m West Link in April this year and work is not expected to start on it until 2015.
Council officers are preparing a report on the options for recovering the funding. Tesco and councillors will be asked to decide the next steps.
The road is needed to ease travel across Inverness and to free up congested city centre streets, according to the local authority.
Tesco has a store next to the proposed route and had been expected to make a developer contribution towards its costs.
However the agreement has since expired and the supermarket chain has complained the lack of the new road has led to lost revenues at its Ness Side shop.
In a statement, Highland Council said: "Members will shortly be updated as to the options for recovery open to the council and will be asked to determine the next steps."
Tesco said: "Discussions with Highland Council on this matter are on-going."