Twin peeks: First images of RZSS park's red panda cubs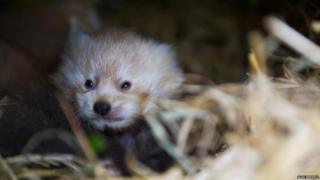 A red panda at the Highland Wildlife Park at Kincraig, near Aviemore, has given birth to twins.
Kitty's young were born on 15 June, but have only been revealed publicly now in images released by the Royal Zoological Society of Scotland (RZSS).
Last year, Kitty raised a male cub called Kush. He has since been moved to Curraghs Wildlife Park on the Isle of Man as its breeding male.
The Scottish park's new cubs will not be on display for several weeks yet.
Kush was the first red panda to be born in one of the RZSS's animal collections in 13 years.
Park visitors will not be able to see Kitty, her mate Kevyn and the unnamed cubs, whose sexes are also still unknown, for a number of weeks.
The RZSS said that this was because it was a "delicate time for both mum and infants".
Red panda cubs are born blind, only opening their eyes after about 18 days.
A distant relative of racoons, red pandas are native to the Himalayas in Nepal, Bhutan, India, Laos, Myanmar and southern China.